Programmatic advertising is the process of using AI to automate ad buying. By removing humans from ad buying, companies receive a more reliable and cost-effective solution to their needs.
Here's a quick look at how programmatic advertising works: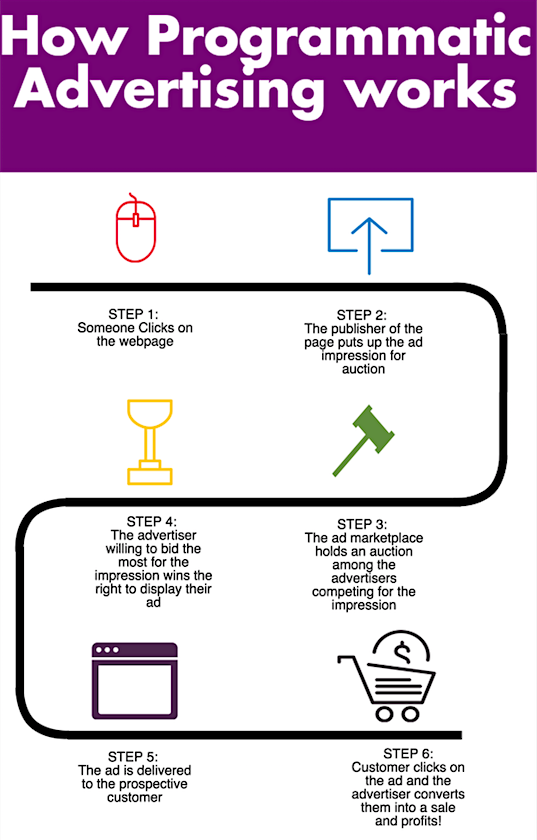 Global programmatic advertising spending has reached almost $130 billion, 61% of which comes from U.S. companies. According to eMarketer, U.S. programmatic display ad spending will grow 18.4% next year, a number that's close to average what was observed in recent years: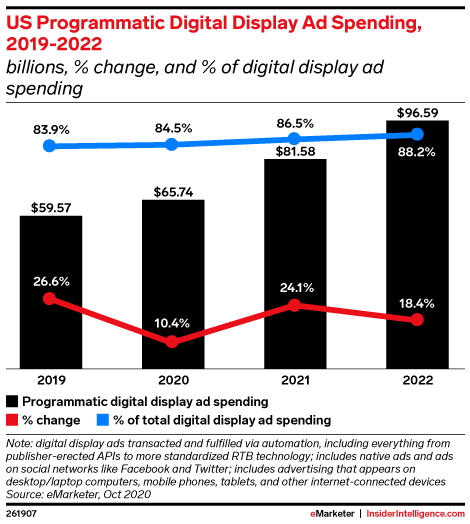 According to SmartyAds, the power of programmatic advertising lies in its optimization scale capacity, which exceeds that of a human:
"Most search-driven manual advertising campaigns (even those performed with professional tools) take into account three or four targets: the keyword, time of day, and location.
Such tools like programmatic demand-side platforms can use hundreds of targeting signals to individualize the advertisement and even target according to lifestyle or behavior habits when integrated with customer data platforms."
If paid media buying is a crucial customer acquisition channel, you should start paying attention to programmatic advertising.
One popular application of programmatic ad buying you should consider adopting is real-time bidding (aka. RTB), which uses real-time auctions to buy guaranteed ad impressions in advance from specific publisher sites.