Artificial intelligence is the technology behind many services, including content creation, chatbots and search engines, which has particularly ramped up since the start of the COVID-19 pandemic.
According to a PwC survey from over 1,000 U.S.-based companies, 52% have accelerated their AI adoption plans. The main benefits include: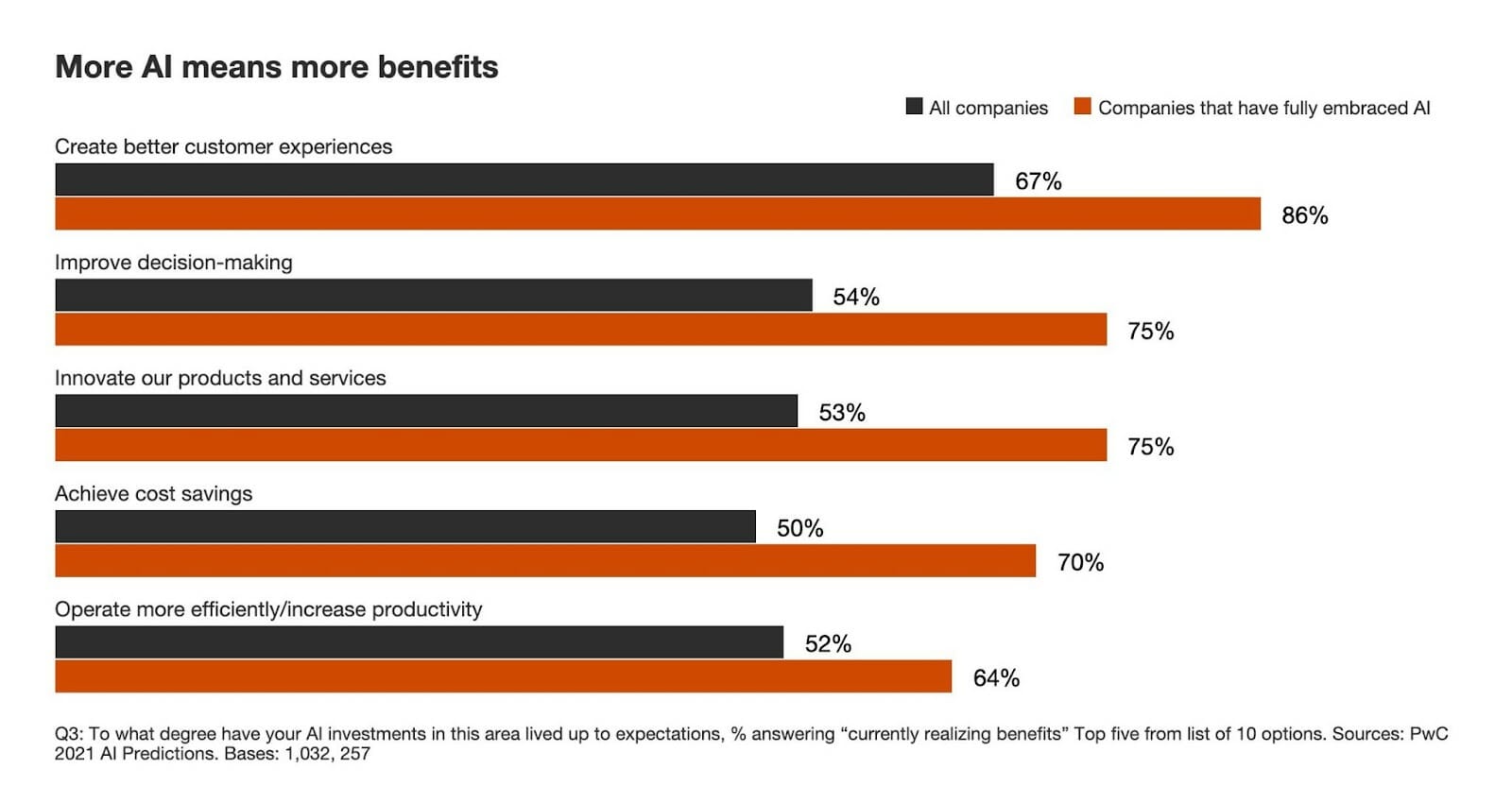 For content creation, Jarvis is an example of AI-powered software that is "trained to generate original, creative content." Apparently, top SEO experts taught Jarvis to write blog posts and website copy. 
AI can also analyze consumer behavior and search patterns, and use data from social media platforms like Instagram posts and blog posts to help businesses understand how customers find their products and services.
One such company that has made AI the center of its value proposition is Google. Over the last few years, their implementation of AI has allowed their search engine to understand with higher precision what people are looking for and what kind of content best serves their search intent.
Google understands what people are looking for and what kind of content best serves their intent. For example, if you search for 'fish oil', Google knows that the dominant search intent is to learn about the health benefits and side effects:
Therefore it's highly unlikely you could rank #1 for this keyword with an e-commerce product page. If you get this step wrong, all the time and effort you spend on content production, promotion and link building will go to waste.
This means that it's become more crucial than ever to nail the search intent, and content optimization is an excellent way to do this.  The easiest way to implement content optimization into your SEO and content workflows is by using a tool like ClickFlow. 
ClickFlow's Content Editor feature pulls data from the top 20 current ranking pages, and helps your writing team put together a perfectly optimized piece of content.
Using Artificial Intelligence to serve up subtopics and related keywords will make any article ultra-comprehensive and give it the best possible chance to rank on page one. It gives you a recommended word count, feedback on readability, and an overall optimization grade based on keywords and subtopics covered:
This was one of the key strategies used in this case study, in which ElectricityRates.com was able to increase organic clicks by 327% in 30 days. Using the Content Editor helped them identify that their existing content was not nearly in-depth enough and the important keywords that were missing:
Businesses adopting AI now will be able to cut staffing costs and accelerate growth, getting an edge over their competitors.